Islands, Wild Highlands & Puffins Tour
24th July 2023
Are you ready for a once-in-a-lifetime journey, exploring the extraordinary beauty of Scotland's West Coast?
For nine magical days, we will be touring some of Scotland's most awe-inspiring landscapes, and meeting some of our most fascinating wildlife. You will be able to see playful puffins on the Isle of Mull, mesmerising sunsets off the Isle of Skye and learn about the historic Highland region.
We will make take in the main highlights, while also visiting quieter nooks and crannies of the Scottish Highlands. If you dream of feeling a strong sea wind whipping around you as you scour the horizon for rare birds and sea mammals, then our 9 Day West Coast Islands, Wild Highlands & Puffins Tour perfect for you.
This tour only takes place in late May and June, to enable us to visit Lunga and Staffa's puffin colonies!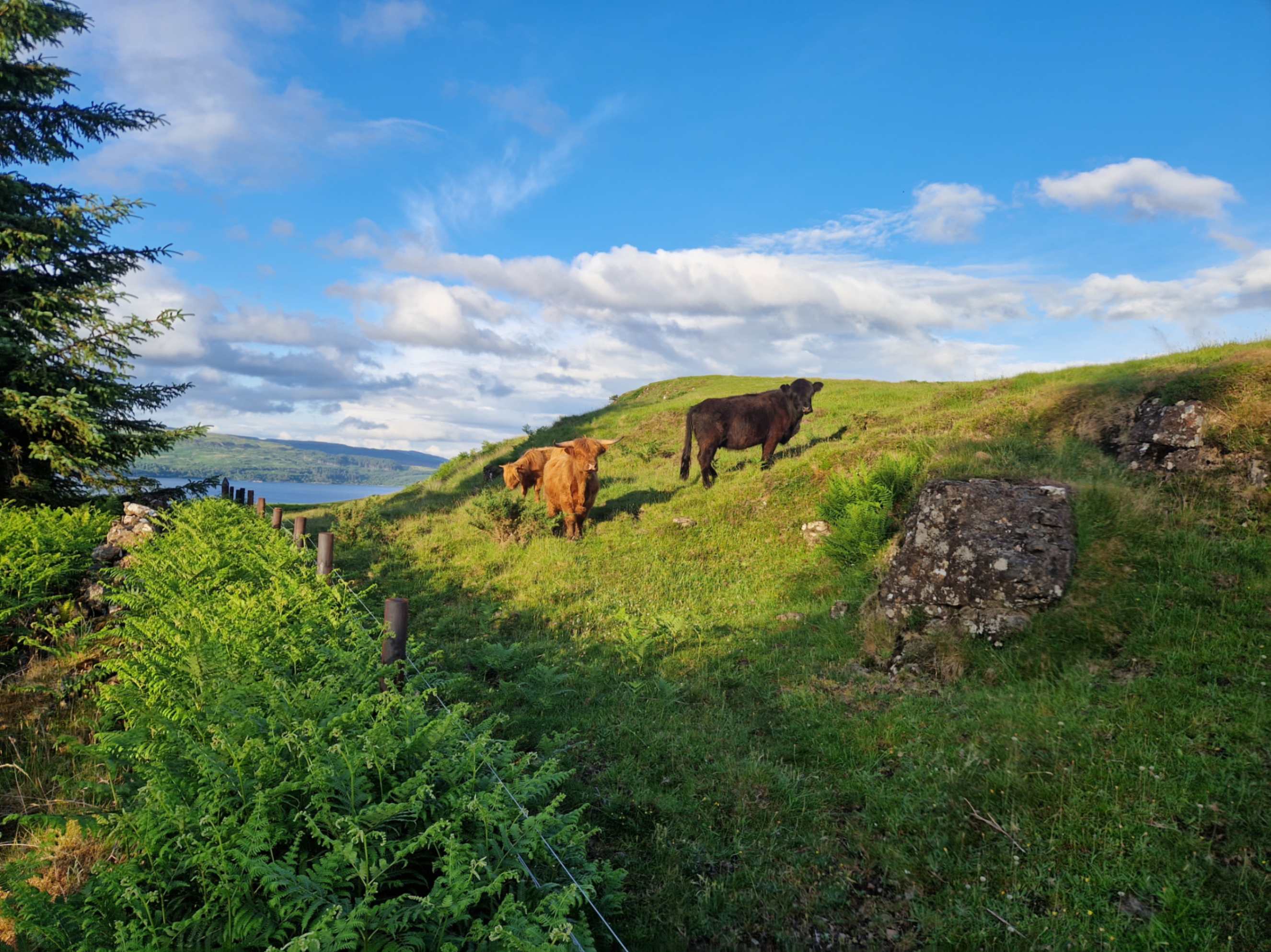 Coos on the Isle of Skye - Driver Matt
Day 1 - Loch Lomond, Inveraray & Oban
Our adventure begins in the world famous Loch Lomond and Trossachs National Park. The idyllic village of Luss will welcome us with picturesque cottages and beautiful loch views. After the tranquillity of the loch shore, we will move up the spectacular 'Rest and Be Thankful' mountain pass, to pause to take in the glen below.
We will continue to the picturesque town of Inverary, which is nestled on the shores of Loch Fyne. Here we will enjoy a traditional Scottish lunch, then explore the shops that line its historic streets, before visiting Inveraray Castle, a masterpiece of architecture and the ancient home of Clan Campbell. As our day ends, we will arrive in Oban, the 'Gateway to the Isles', perfectly situated for captivating views across the sea.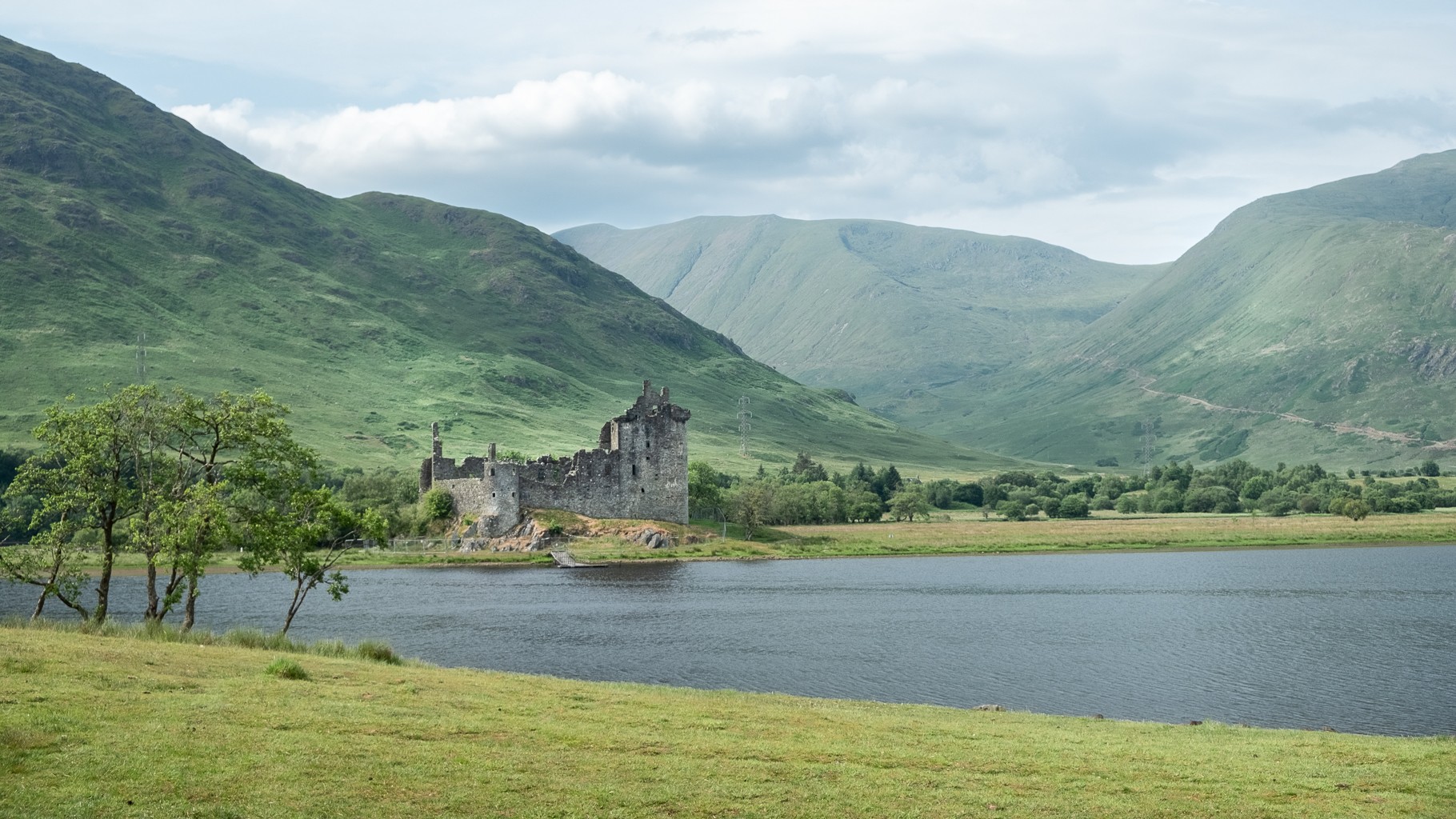 Kilchurn Castle - Tour Guest Wes Moody
Day 2 - Isle of Mull - North
Day two promises to be a wonderful experience as we embark on a scenic ferry ride across the sparkling Firth of Lorne to the Isle of Mull. Known for its pristine beauty and interesting wildlife, Mull will beguile you with its towering mountains and gorgeous seascapes.
As we explore the northern part of the island, look out for native red deer that are in abundance here, playful otters, soaring eagles and of course, Highland Cattle. The colourful houses of Tobermory pop against the landscape, beside an array of charming local shops lining the bustling harbour front.
After a leisurely lunch in Tobermory, we will be heading west to the remote and captivating Calgary Bay. As you stroll along its pristine white, sandy beach, you will feel a sense of peace and tranquillity to set the stage for a comfortable overnight stay on Mull.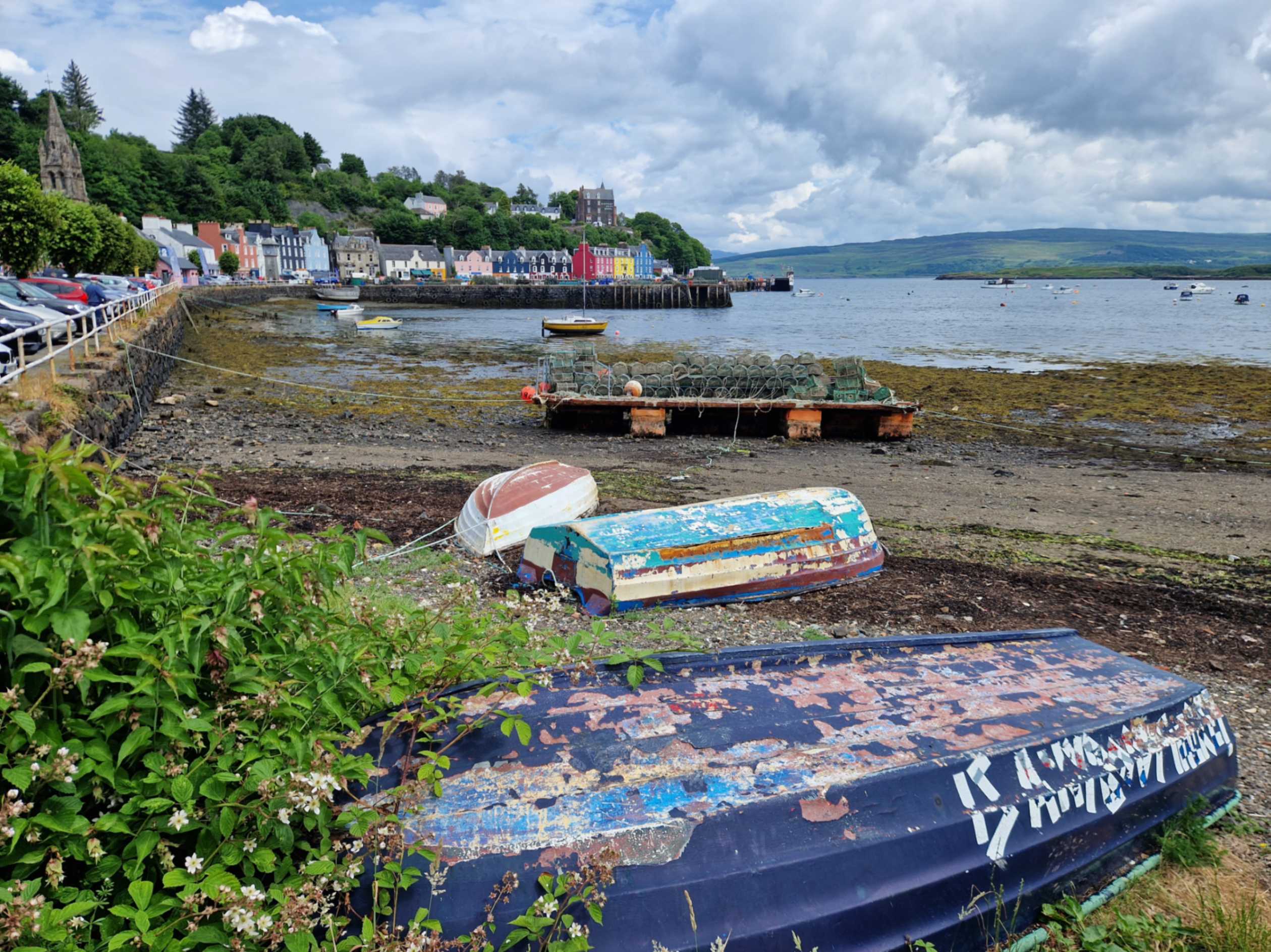 Isle of Mull - Driver Matt
Day 3 - Isle of Mull - Puffin Cruise
On day three we will head south to discover yet more of the rugged landscapes as we embark on the highlight of this vacation - the Puffin Cruise with Turus Mara. This tour takes us west to explore the scenic trails of the Ardmeanach Peninsula before embarking on an incredible island experience. The Treshnish Isles and Staffa as so remote islands, you will feel like you are standing on the edge of the world.
Our cruise partners are Turus Mara (Gaelic for a journey or excursion by sea), a family run business established in 1973, based on the Isle of Mull. Your day with Turns Mara includes a visit to Staffa (Fingals Cave) and Lunga to see the thousands of seabirds that breed on the Tresnish Isles during the summer months.
Arriving at the jetty by late morning, you will board the stable and comfortable craft from the jetty at Ulva Ferry, Mull. Toilets are available here or onboard the boat. Her hull is GRP with an aluminium superstructure, creating an eminently stable and comfortable all-weather craft suited to the sometimes tricky conditions that can be expected during the shoulder months.
Enjoy two hours on Lunga which is ample to take it all in. The Turus Mara crew are friendly and extremely helpful in pointing out the passing wildlife and you may even spot a Sea Eagle! Keep an eye out for seals, dolphins and lots of interesting seabirds.
Once ashore, you will have a couple of hours to spend observing and taking photos of the endearing puffins. These fascinating comic seabirds fly thousands of miles in migration, dive to over 60 metres quickly and with ease, move at surprising speed on dry land and can live to over 60 years of age. They are incredibly tame and you'll want to sit by the burrows and study these fascinating creatures.
The day will continue as you head to Staffa, where the basalt columns of Fingal's Cave are guaranteed to leave a lasting impression.The crashing waves and grandeur of the natural rock formations is a truly magnificent sight to behold.
Puffins nest on both The Treshnish Isles and Staffa so you'll get another opportunity to view them here too. After spending approximately one hour ashore at Staffa, we will wrap up the day back on the boat where you just might see some seals basking in the sun at the end of our time on Mull. All our guests come away from this tour bursting with joy after some a wonderful and unusual experience.

Fingal's Cave and Puffins - Driver Matt
Day 4 - Ardnamurchan Peninsula
Day four takes us to the peaceful Ardnamurchan Peninsula - a place rarely travelled to even by us Scots due to how remote it is. Defined by single-track roads and remnants of ancient volcanic activity, this is the perfect place to escape from the modern world. To find the most beautiful places, sometimes you have to work a little harder (fortunately we do all the driving for you!) It also offers a unique landscape which is less famous than the likes of Skye or Glencoe, but just as enchanting. Keep an eye out for white-tailed eagles, dolphins, red deer, otters and seals.
Carefully touring through this winding peninsula, we take time to visit the intriguing ruins of Castle Tioram, the ancient fortress of the MacDonalds. Castle Tioram was built in the mid 13th century and extended in the 14th century as a testament to the independent rule of Rough Bounds by the Clanranalds, "Lords of the Isles". It is also a castle of great beauty, whose ruined state poetically sums up its history. Once a centre of power, it was burnt on the orders of the last chief when he set off to join the doomed Jacobite rising of 1715.
The castle is situated in a strategic location on a rocky tidal island of Eilean Tioram at the confluence of Loch Moidart and the River Shiel, occupying the whole summit of the rock in Moidart. This vantage point provides us with the opportunity to continue our search for seals, otters and eagles.
Our journey along the rugged coast will lead us to Mallaig, where we will board the ferry 'Over the Sea to Skye'. This journey is a real feast for the senses, with breath-taking views around every corner.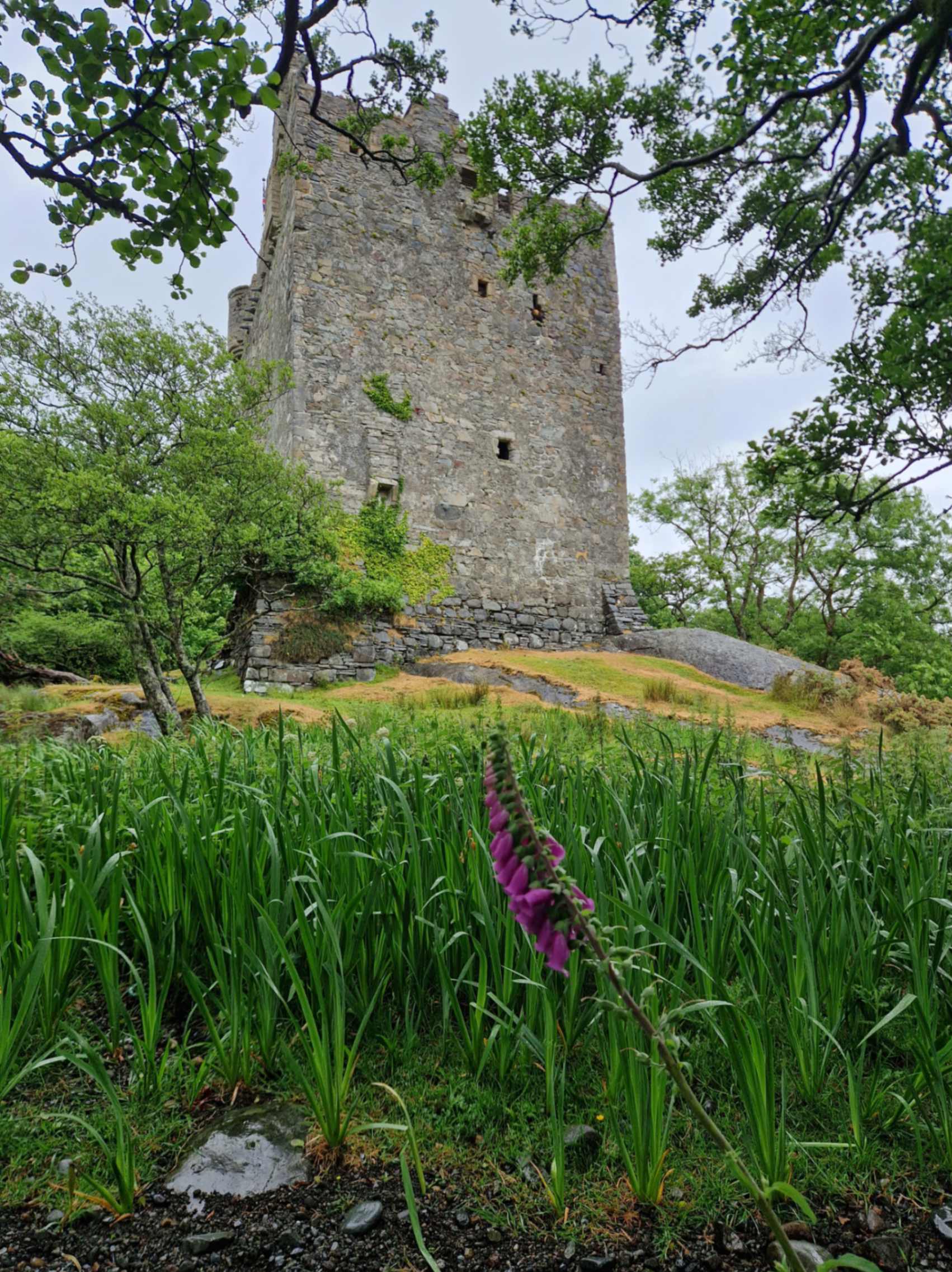 Castle Tioram - Driver Matt
Day 5 - Isle o
f Sky
e
On day five we will find ourselves on the enchanting Isle of Skye, the largest and northernmost of the major islands in the Inner Hebrides of Scotland. As we make our way through Broadford, it becomes clear that the island's peninsulas radiate from a mountainous hub dominated by the Cuillin mountains, the rocky slopes of which provide some of the most dramatic mountain scenery in the country.
We arrive in Portree where we find a lively harbour front, lined by bright, coloured houses and teeming with activity. After a hearty lunch, we will explore the rugged Trotternish Peninsula to the north, where iconic landmarks like the OId Man of Storr, Kilt Rock Falls and the Quiraing await.
Standing at the top of the cliffs of Kilt Rock with a panoramic view of the sea, and the crashing sound of waterfalls in the background, is a truly unforgettable experience.
The Isle of Skye has a huge array of wildlife, keep a keen eye on the landscape and see if you can spot any red deer, golden and se eagles, otters, seals or a cheeky little Pine Marten.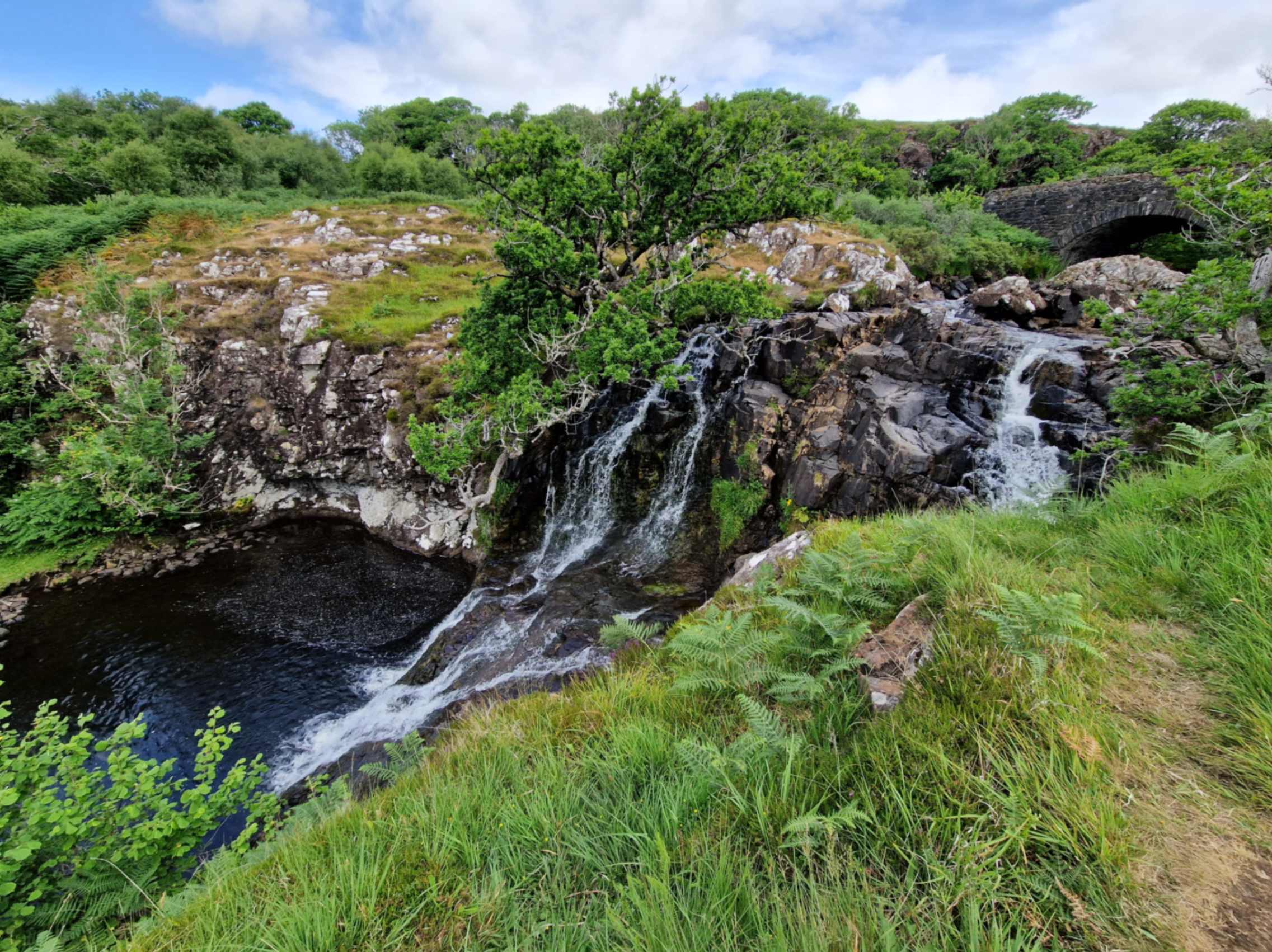 Skye Waterfall- Driver Matt
Day 6 - Applecross to Inverness
Day six begins with our visit to the iconic Eilean Donan Castle, a perfect example of mediaeval Scottish architecture. This will be followed by an awe-inspiring drive over the Bealach Na Ba mountain pass to the secluded Applecross Peninsula.
Known for its remarkable mountain scenery, especially the majestic Torridon hills, Applecross is a lovely, tranquil place. We will end the day with a visit to Rogie Falls, where a secluded waterfall, surrounded by dense forest, will provide a spot for reflection and relaxation.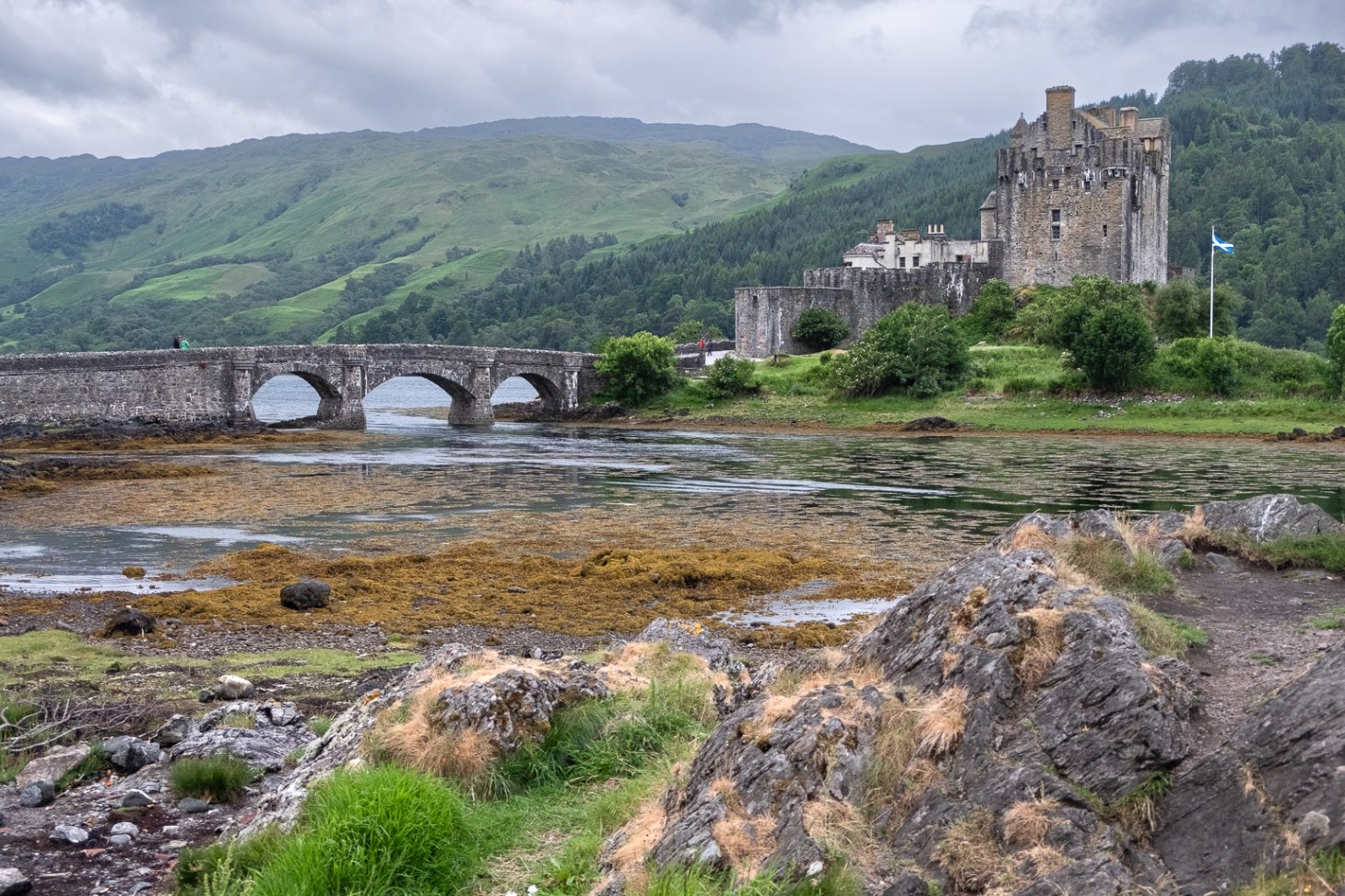 Eilean Donan Castle - Tour Guest Wes Moody
Day 7 - Loch Ness & Whisky
Our seventh day will start by exploring Inverness, fondly known as 'Capital of the Highlands'. After a morning spent soaking in the local culture, we will head towards the world-famous Loch Ness. A stroll along the loch will provide opportunities to capture stunning photographs - and who knows, you may even spot the elusive Nessie!
Your day will finish with a chance to visit a traditional whisky distillery on the 'Black Isle', where we will uncover the trade secrets behind the production of Scotland's most famous and lucrative export. You also have the chance to taste the whisky of course, Sláinte!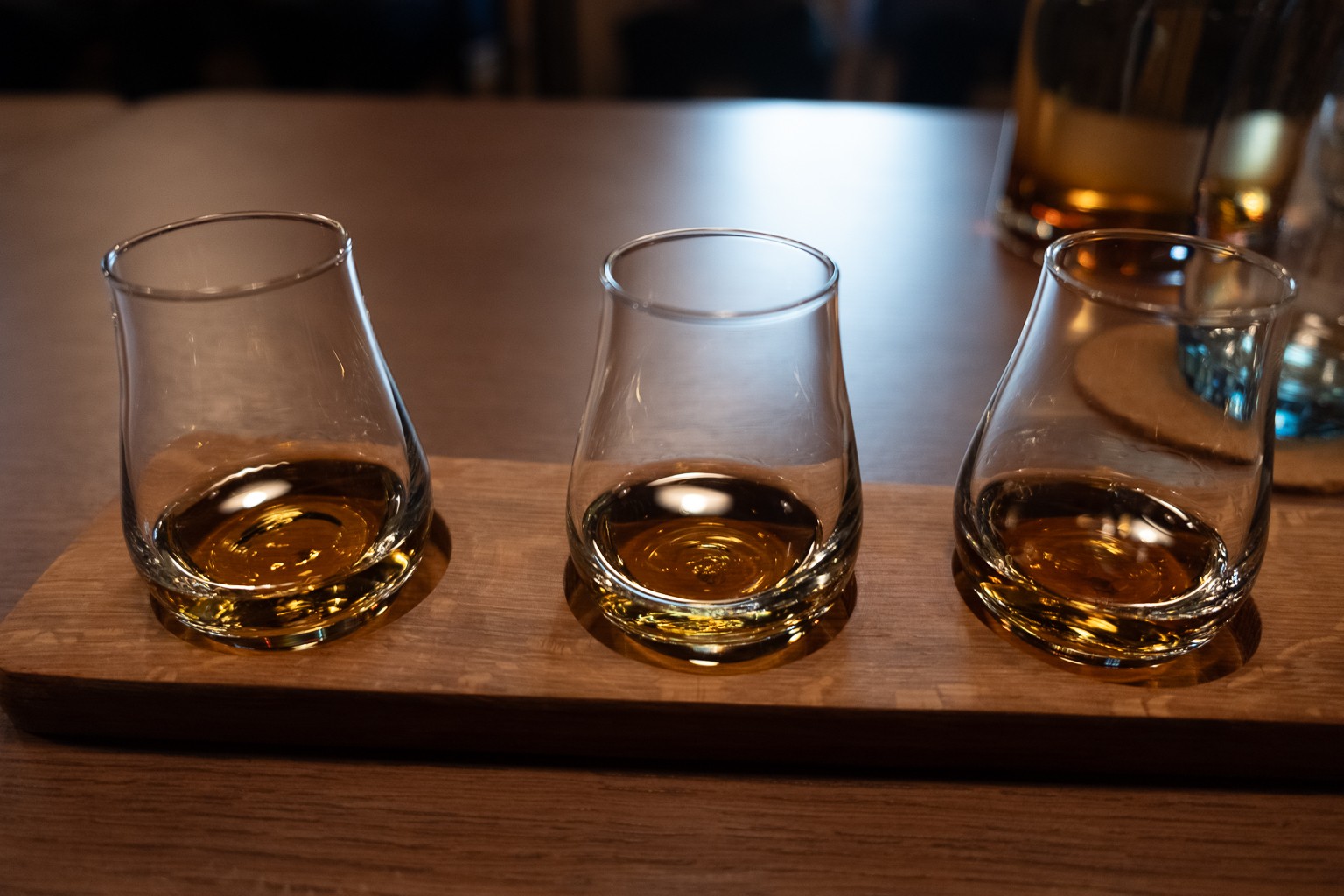 A Wee Dram - Tour Guest Wes Moody
Day 8 - Royal Deeside and Cairngorms National Park
Day eight is all about exploring the Cairngorms National Park, known for its grand landscapes, rich biodiversity and of course, Royal Deeside. This part of Scotland is where you are most likely to spot large herds of deer who sometimes run in herds of fifty or more. Seeing so many gallop across the Cairngorms landscape is truly a breathtaking, even intimating site.
We will start with a visit to Carrbridge, famous for it's old pack-horse bridge, before we move on to Grantown-on-Spey, a charming town with beautiful riverside walks and unique shops.
We will spend the afternoon in the royal village of Ballater, learning about historic connections with the British Royal Family. The day will conclude with a leisurely stroll through the town of Pitlochry's bustling high street, a great example of highland Perthshire culture.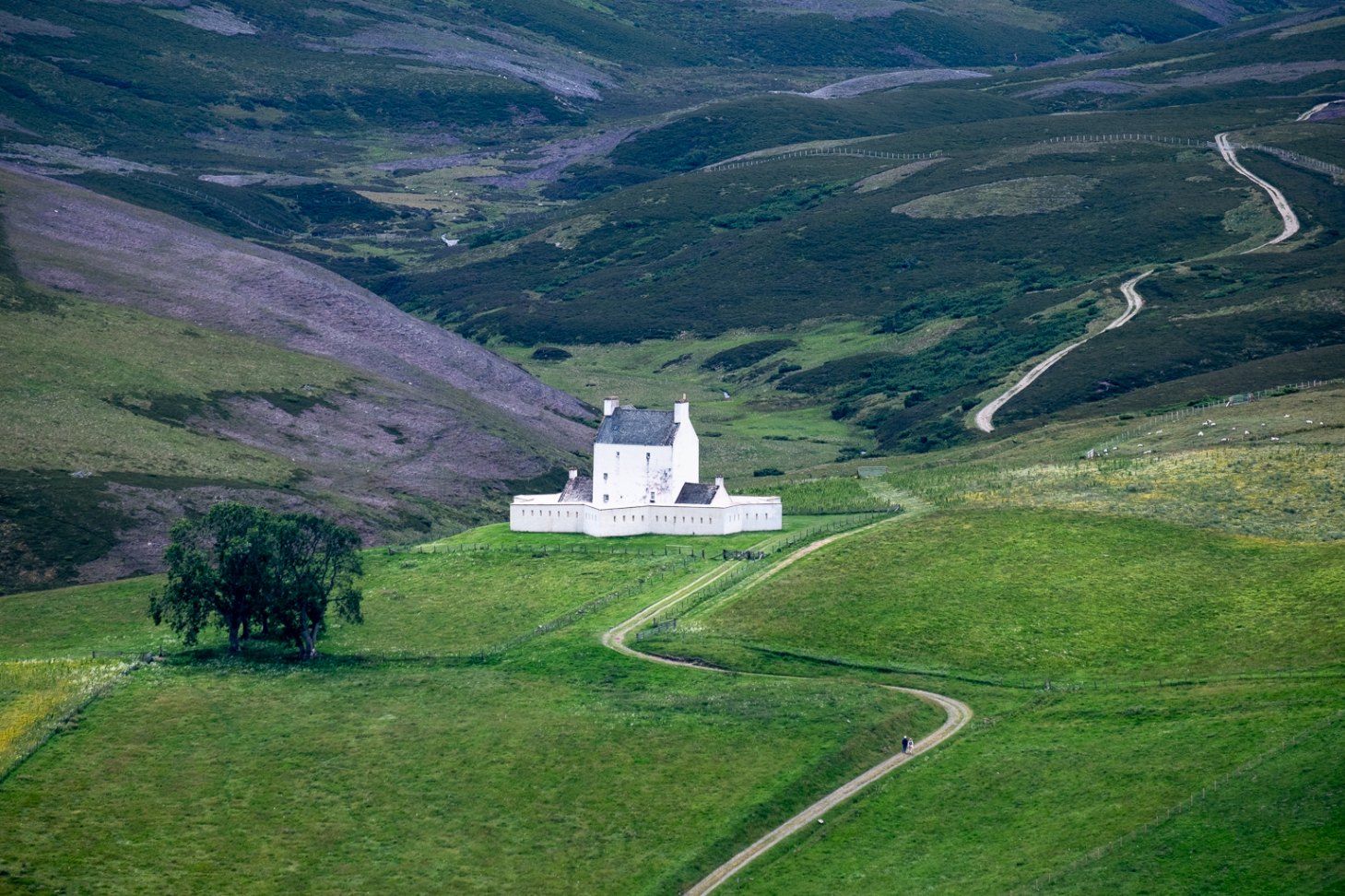 Corgraff Castle - Tour Guest Wes Moody
Day 9 - Highland Perthshire to Edinburgh
Our final day comes around all too quickly and will begin with a panoramic view of Loch Tummel from 'Queen's View' outside Pitlochry. We will give you time to wander around the forest as is the perfect place for photography enthusiasts.
Next, we will head to Aberfeldy, a vibrant town known for independent shops and locally sourced food.
A visit to Dunkeld Cathedral will allow us to soak up a peaceful riverside setting before we head to South Queensferry, where we will cross the iconic Forth Road Bridge - a UNESCO World Heritage Site. As our trip draws to a close, we will venture into the heart of Scotland's capital, Edinburgh.

Edinburgh Streets - Tour Guest Wes Moody
Your nine-day adventure includes a dedicated tour coordinator to ensure every aspect of your journey runs smoothly, a luxury touring vehicle for comfortable travel, and your knowledgeable driver/tour guide. To maintain an intimate group experience, we limit each vehicle to a maximum of eight people, so everyone has plenty of opportunity to ask questions and build relationships. We also have private touring options.
This particular tour is always run during the months of May and June to align with Puffin season! However, we can run a similar itinerary at any time of the year.
So, are you ready to embrace Scotland's wild beauty, revel in its rich heritage, and be swept away by its breath-taking landscapes? Join us on this captivating journey through our beautiful country. The only risk? You may just lose your heart to its wild, enchanting beauty!
Get booked onto our 9 Day West Coast Islands, Wild Highlands & Puffins Tour.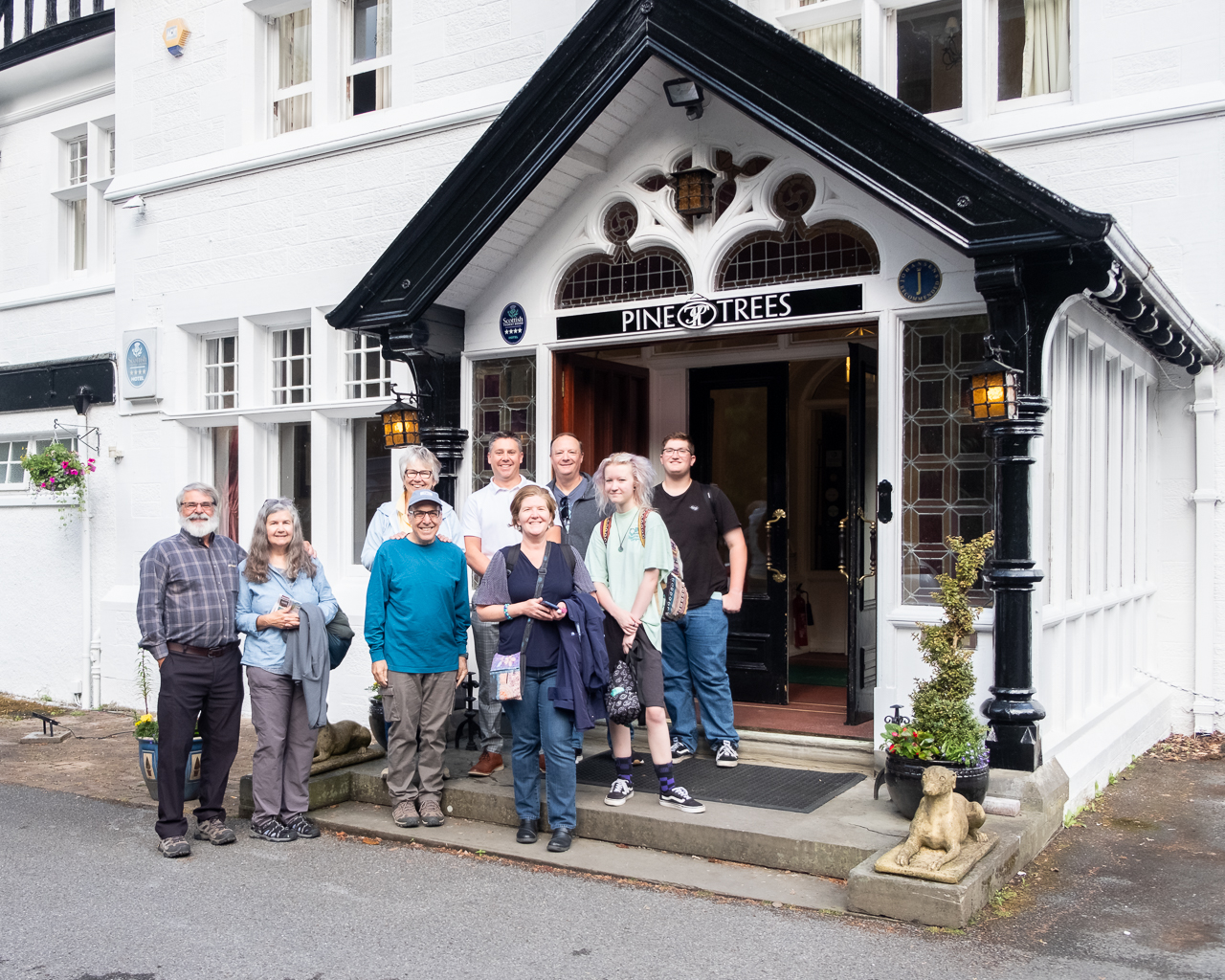 Our 2023 tour group!
Recent articles