Scottish Lochs, Castles & Country Walks
10th May 2023
Relaxing strolls through tranquil woodland and stunning scenery followed by a hearty meal served up with fine Scottish hospitality. If this sounds like your dream vacation, then our Scottish Lochs, Castles and Country Walks Tour is the tour for you. We will visit some of Scotland's most breathtaking destinations and give you some time to really take it in as you enjoy wandering through our countryside.
None of the walks are overly strenuous and this tour is suitable for everyone with good mobility and a reasonable level of fitness. If you have any questions about this please contact our team who will be happy to talk it through with you.
Tour Highlights
Kilchurn Castle, situated on the banks of Loch Awe, is set against a backdrop of stunning natural beauty, while dramatic, mountainous Glencoe is home to iconic Scottish wildlife, such as red deer and golden eagles. The Isle of Skye visit includes a guided hike and a tour of the rugged landscape, with a chance to see unusual rock formations and sea cliffs.
Iconic Eilean Donan Castle is situated on a small island where three famous lochs meet. At Loch Ness, you can take a leisurely walk in ancient woodland, while keeping an eye out for Nessie! Beautiful Perthshire will offer the chance to enjoy rivers and forests; it is the perfect place to unwind.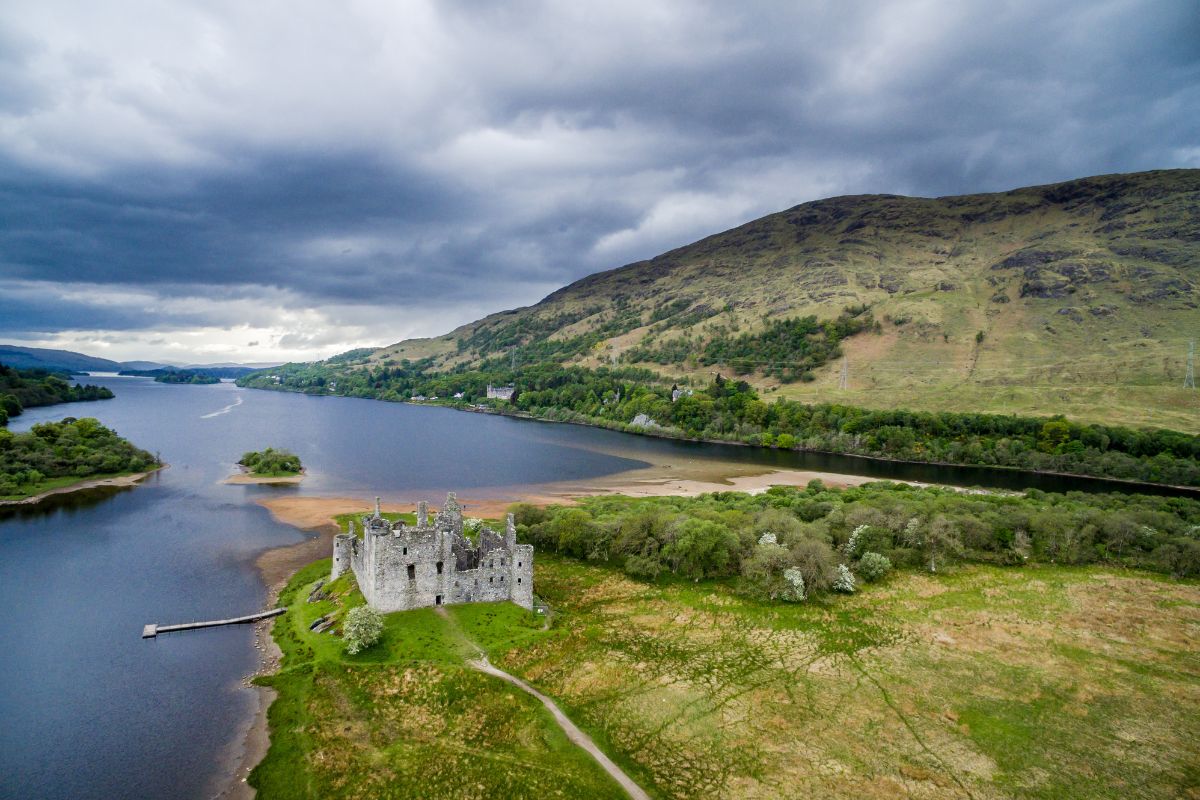 Kilchurn Castle
Let's take a closer look at the itinerary:
Day 1 - Loch Lomond, Inveraray and Glencoe
Day 1 of our Scottish adventure begins with Loch Lomond and the Trossachs National Park. This area is best known for majestic mountains, picturesque glens and stunning lochs and rivers. As you make your way through the park, you'll enjoy the unique views of Scotland's countryside.
We will stop, explore and soak up the atmosphere of the charming village of Luss, with its quaint houses and idyllic surroundings. From here, our tour will take you to the 'Rest and Be Thankful', a viewpoint which offers panoramic views of surrounding mountains and valleys.
Our next stop will be the historic town of Inveraray, home to Inveraray Castle - the ancestral seat of Clan Campbell. A stroll through the town will provide a chance to admire architecture and scenery, before we stop for lunch at Brambles, Inveraray.
Next, we visit Kilchurn Castle, a captivating ruin situated on the banks of Loch Awe. A 60-minute stroll will offer the chance to stretch your legs and take in yet more of Scotland's never-ending supply of picturesque scenery.
After the tranquillity of Loch Awe, we will continue to the eerie Rannoch Moor, known for its desolate, rugged landscape - and where you might just spot some wild deer.
Our final stop of the day is Glencoe, where you'll learn all about the grim massacre of 1692. This tragic event saw the murder of many members of the MacDonald clan at the hands of loyalist Campbell soldiers and is a haunting reminder of a dark period in Scottish history.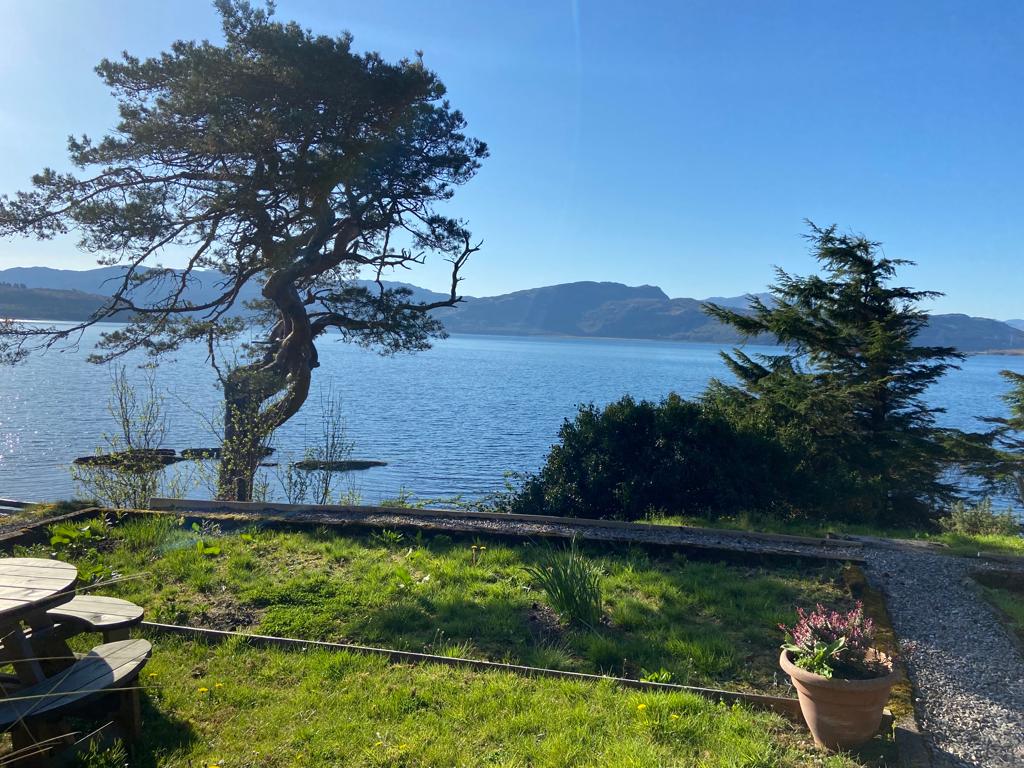 Loch Lomond - Driver Alan
Day 2 - Glenfinnan and Isle of Skye
Day 2 of your Scottish tour takes you westward, along the 'Road to the Isles'. You will be treated to stunning views of the Isles of Eigg and Rhum, two of Scotland's smaller island gems. We then follow the West Highland Railway, built to open up this remote part of the Scottish coast.
Our next highlight will be a stop at Glenfinnan to view a monument which stands in honor of brave Highlanders who gave their lives for the Jacobite cause in 1745. It's a stirring memorial to another well-known period in our country's history.
Next, we will move on to the quaint fishing town of Mallaig, where we will board a ferry to the fabulous Isle of Skye. Skye is possibly Scotland's best-known island and home to a fantastically wild landscape which has served as a backdrop to many Hollywood movies.
Our first stop on Skye will be Armadale Castle and Gardens, an estate that's home to beautiful woodlands, gardens and historic buildings. After a leisurely 45-minute walk in beautiful surroundings, we will enjoy coffee and cake at the Stables Café.
As the day draws to a close, we will retire to hand picked accommodation to relax and recharge.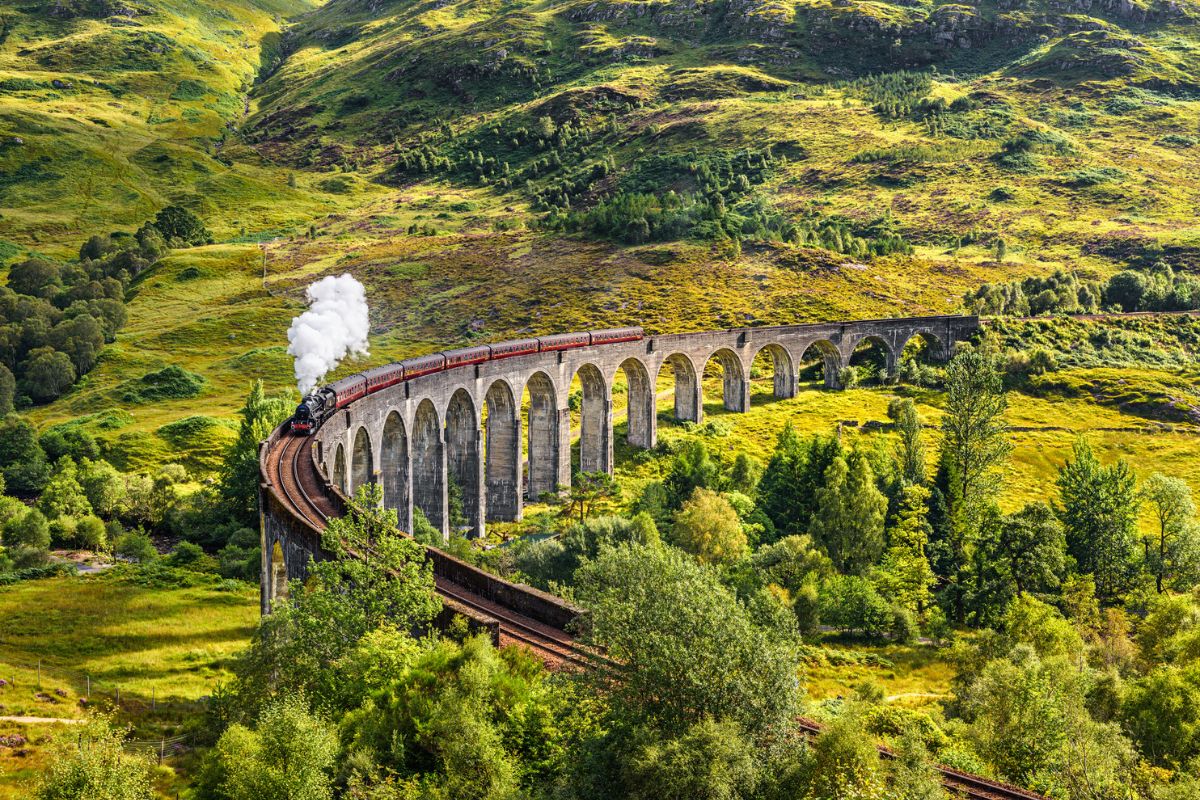 Glenfinnan
Day 3 - Isle of Skye
On Day 3, your journey on the Isle of Skye will continue with a tour of the island's most fascinating sights. We will pass through the charming village of Portree – with its colorful harbor buildings and unique shops, it's a must-see.
After lunch at Uig Hotel, we will head to the Trotternish Peninsula to take in more fabulous views from a different vantage point. We will also stop at Uig, a picturesque village that's home to more iconic landmarks.
One of these landmarks is the Old Man of Storr, a rock formation which rises majestically from the landscape; a natural wonder that's a highlight of any trip to Skye. We will also visit Kilt Rock Falls, an impressive waterfall that cascades from cliffs into the sea below.
Our visit to Skye is always an unforgettable experience.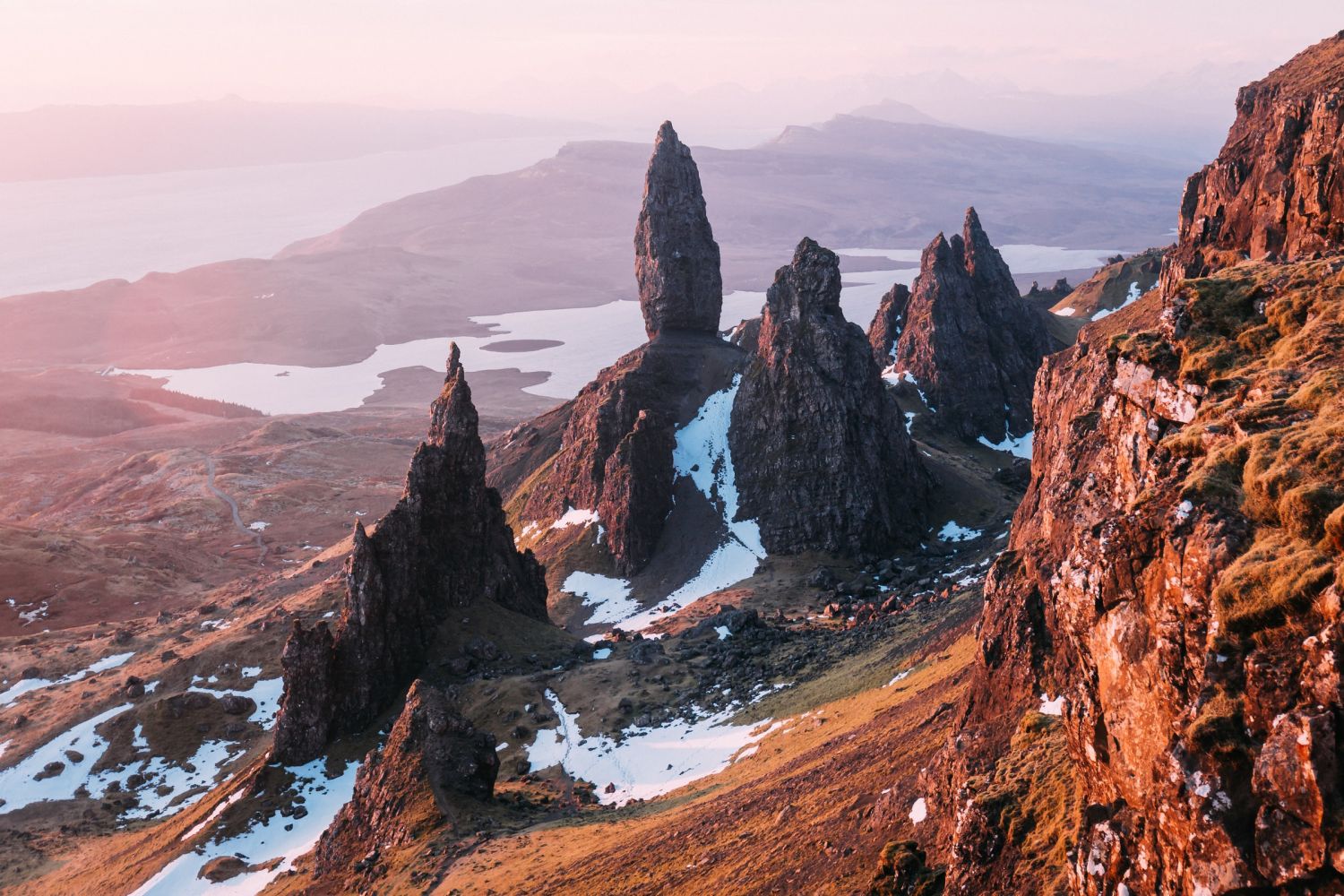 Old Man of Storr
Day 4 - Eilean Donan Castle and Glensheil
Day 4 takes us back to the mainland and begins with Eilean Donan Castle. One of Scotland's most well-known landmarks, it sits perched on the edge of three separate sea lochs; built to protect against Viking invaders. After exploring the castle, we will pass the 'Five Sisters of Kintail', a series of five mountains that are firm favorites with hikers and climbers.
Next, in beautiful Glenshiel, we will take a 60-minute woodland walk to the Falls of Glomach, where you can see plenty of Scottish nature and wildlife. After exploring, we will drive to Fort Augustus, located on the shores of Loch Ness, our largest loch. We will have plenty of time to wander and perhaps you might even spot 'Nessie', the elusive Loch Ness Monster!
After lunch and shopping at Old School, Beauly, we will soak up more views of Loch Ness before continuing north, past the Falls of Foyers. We will complete the day at our accommodation near Inverness, to rest and recharge.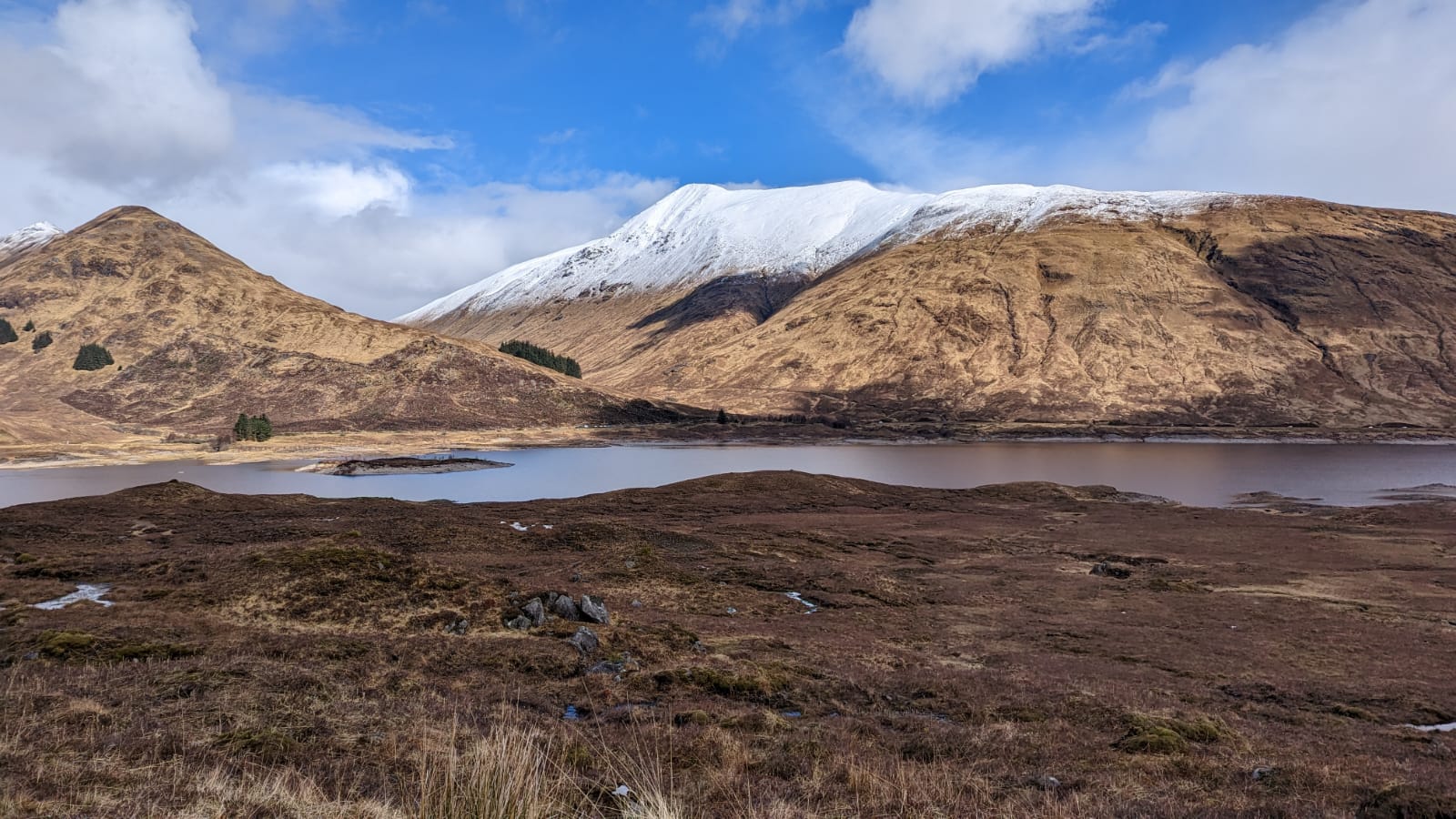 Glensheil Mountains
Day 5 - Culloden and the Cairngorms
Day 5 of our Scottish adventure begins with Culloden Battlefield, the site of the infamous battle between Bonnie Prince Charlie, his Jacobite army and an army of British Redcoats. You can take a 45-minute walk around the battlefield to learn more about the history of the fallen soldiers.
Afterwards, we will head to the Cairngorms National Park and its vast expanse of Caledonian pine forest. Passing through Carrbridge, we will see the oldest horse pack bridge in Scotland and sample local produce at Rothiemurchus Farm Shop.
We will have time to take a leisurely walk around Loch an Eilein with views of a 13th century island castle, before traveling to accommodation in the charming Victorian town of Pitlochry, ready for Day 6 in beautiful, green Perthshire.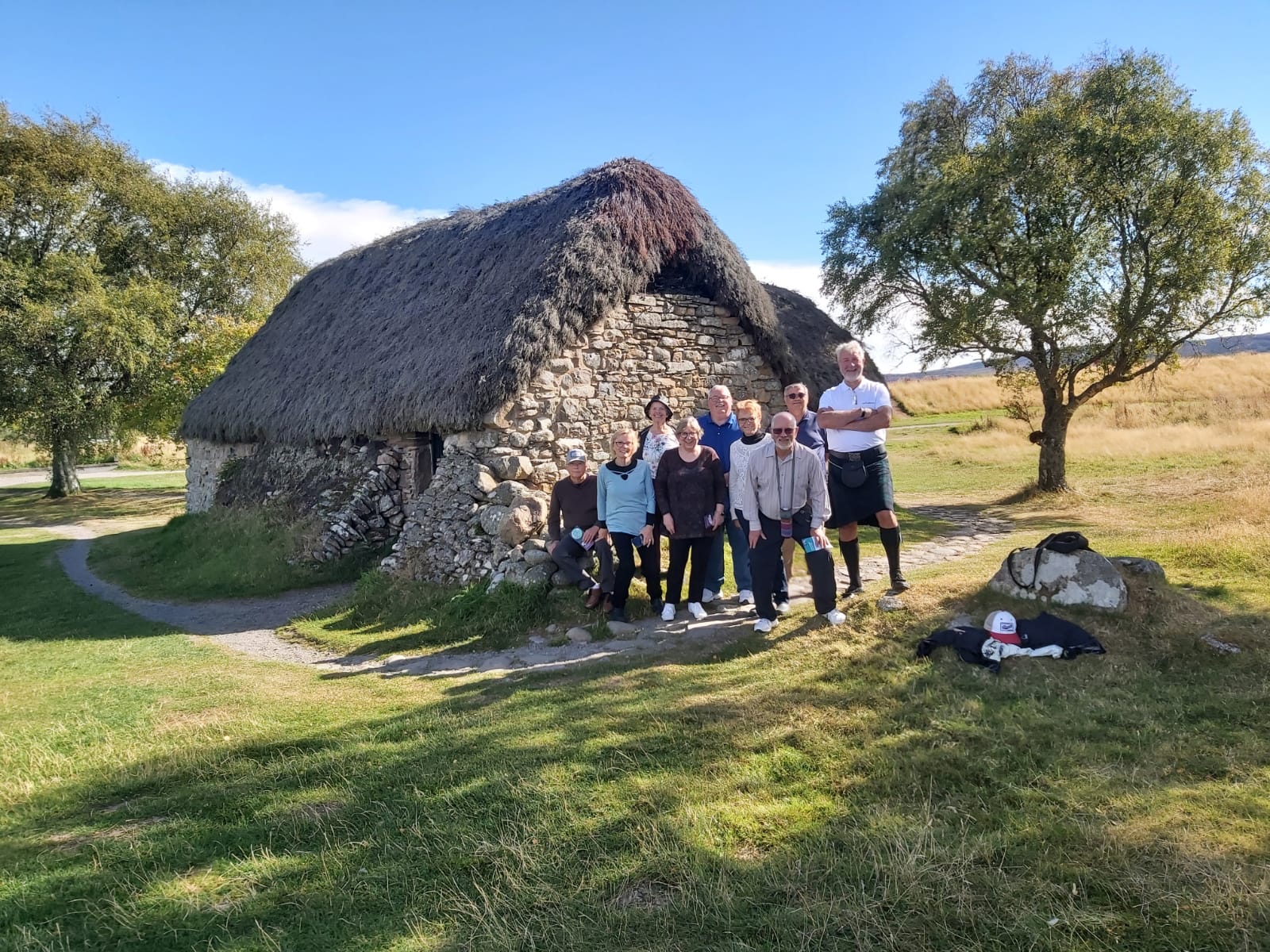 Driver Colin and guests at Culloden
Day 6 - Highland Perthshire
Day 6 starts with a stroll around Pitlochry, before heading deeper into the landscape of Perthshire. We will drive a short distance to the panoramic viewpoint, 'Queen's View', where we will see Loch Tummel, surrounded by magnificent mountains.
Venturing on to the town of Aberfeldy, we will enjoy a riverside walk along the banks of the River Tay, one of Scotland's longest rivers. A one-hour walk takes us through lush countryside, with gorgeous views of the mountains and water, before we stop for coffee and delicious cake at The Watermill Bookshop, Café & Gallery.
Later, we will visit Blair Castle, one of Scotland's most historically significant castles. Located in a strategic position on the main route through the Highlands, it has links to some of our most famous royal figures, such as Mary Queen of Scots and Bonnie Prince Charlie. You will have plenty of time to explore the gardens, richly furnished rooms and fascinating exhibitions.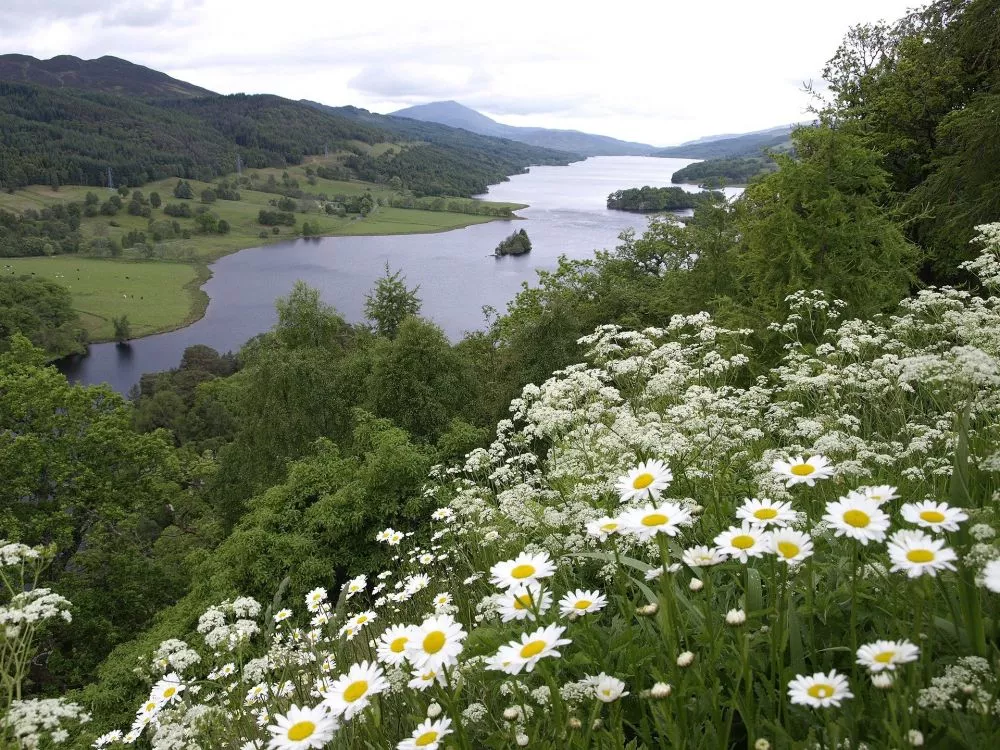 Queen's View
Day 7 - The Hermitage and Rosslyn Chapel
After a relaxing night in Pitlochry, we will begin our final day with a morning walk among the Giant Douglas Firs at 'The Hermitage', an enchanting forest, perfect for nature lovers. Next we visit Dunkeld to enjoy Scottish produce at The Scottish Deli, before a stroll along the banks of the Tay and an opportunity to explore the historic Cathedral.
As the final day of our tour draws to a close, we will drive south to South Queensferry, taking in the sight of the impressive rail bridge spanning the Firth of Forth. Finally, we will have the chance to visit the 15th century Rosslyn Chapel, made famous by Dan Brown's novel, The Da Vinci Code. With intricate carvings and mysterious symbols, it's a must-see for history buffs and conspiracy theorists alike.
Our tour ends in Edinburgh, the capital city of Scotland. From the jagged coastlines of the Isle of Skye to lush green landscapes of Perthshire, Scotland is home to some of the most amazing sights in the world. We would love to welcome you to our fascinating tour, which is simply filled with romance and history.
Book the tour and join us for an unforgettable adventure!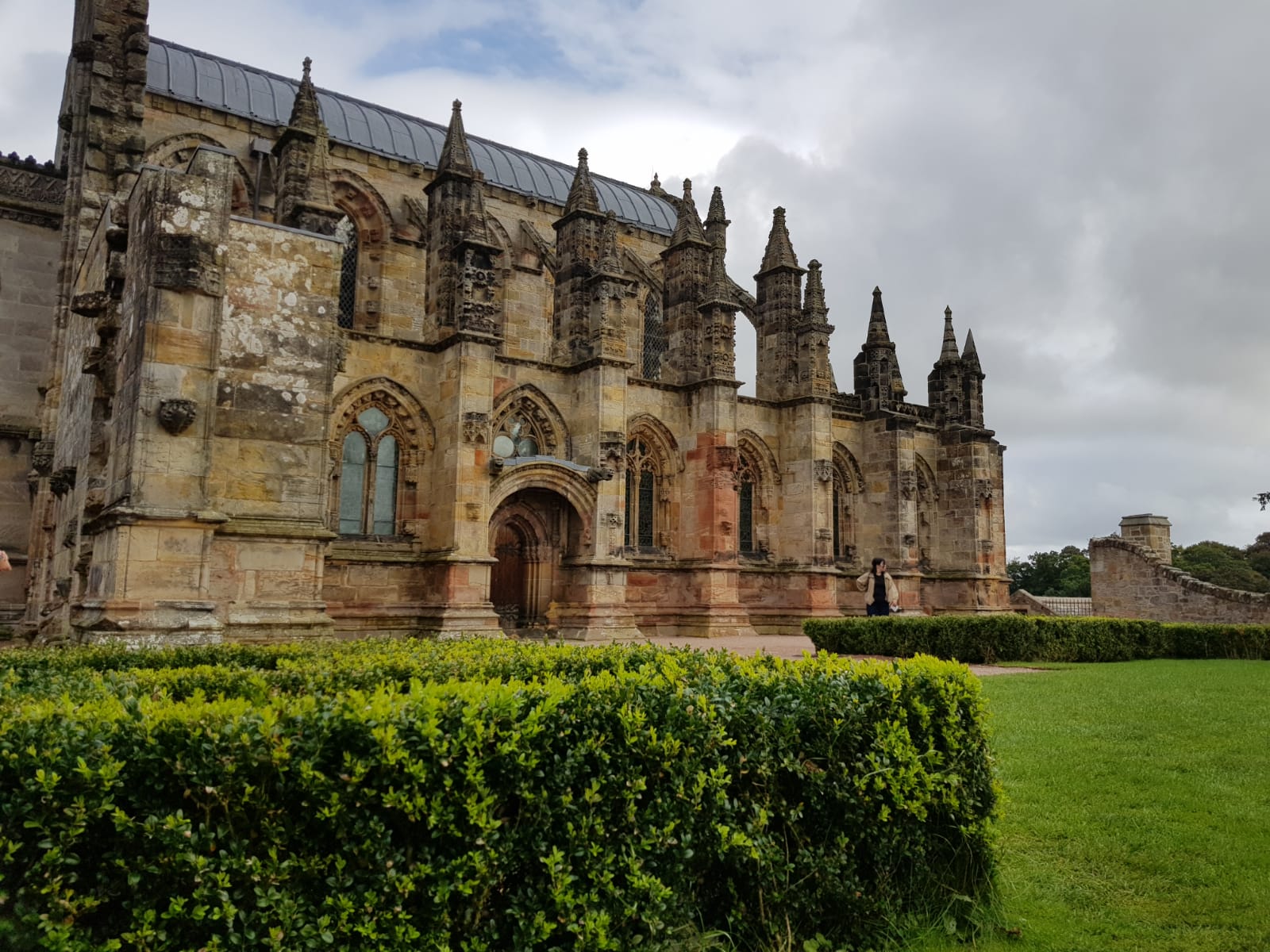 Rosslyn Chapel
Recent articles