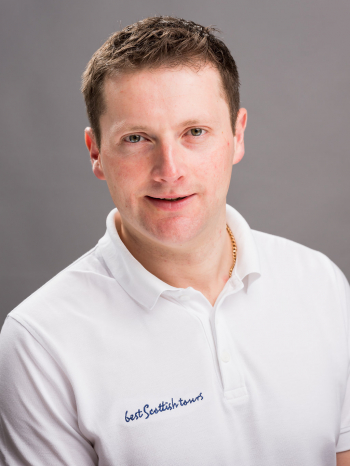 Chris
Me in three - Attentive | Amusing | Cheeky Chappie
My favourite place in Scotland - Cairngorms National Park
My Scottish hero - F1 Racing Driver Sir Jackie Stewart
Where I grew up - I was born and raised in the Cowal Peninsula on the west coast - one of the remotest areas in the west of mainland Scotland.
My favourite tour - I really enjoy taking the 10 Day Grand Tour which includes a visit to the Isle of Skye, Loch Ness, Inverness and the Cairngorms National Park. It really is a fantastic experience for your first visit to Scotland as you'lll see the many varied landscapes that my country has to offer. Come to Scotland and I'll show you!

What I drink amongst friends - I'm not really a big drinker but a nice cool pint of Tennents Lager is perfect on a warm summer night.
When I'm not touring with guests - I love to drive - anywhere! You'll find me out and about most days as I live in an extremely beautiful part of Scotland and the roads are just perfect for a good drive. I'm also quite 'handy' and I'll spend a fair bit of my spare time fixing and restoring things.