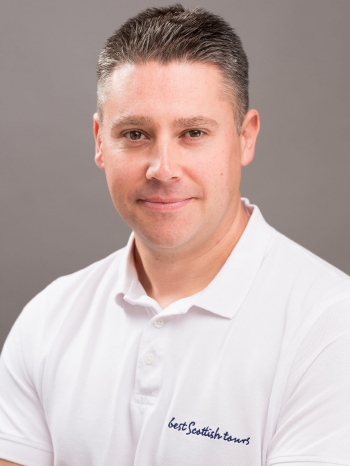 Matt
Me in three - Attentive | Cheerful | Enthusiastic
My favourite place in Scotland - Torridon
My Scottish hero - King Robert the Bruce
Where I grew up - I had a great childhood growing up in rural Argyllshire. It was a fantastic place to be a young lad - living free amongst the forests and mountains. Oh how I miss those days! My home village is now part of Scotland's first National Park and is an area of natural outstanding beauty.
My favourite tour - I really enjoy any journey that takes us into rugged, unspoilt country...Torridon is one such place. Considered by many to embody the North Highland landscape of Scotland, Torridon is an ancient and enchanting wilderness. The rugged mountains are incredibly old – dating back 750 million years. Its combination of rock and water, changing seasons and moods make this an awe-inspiring place to visit. You can explore this on the 9 Day Highlands & Islands tour or the 7 Day Best of Scotland tour.
What I drink amongst friends - I do enjoy a whisky, or two. Firm favourites are Bunnahabhain 18 years and Ledaig from the Isle of Mull and if we're really getting along I might even crack open the Highland Park 20 years!
When I'm not touring with guests - Having the Highlands right on my doorstep is a real blessing which too many of us take for granted with our busy lives these days. I always make time when I can to head out and experience some of our dramatic Scottish scenery. I love island hopping too - Mull, Harris and the Uists are some of my favourites islands to visit. My daughter, Lauren, is a premier class Highland dancer, competing in competitions and Highland Gatherings across Scotland each year.